What's soft ?
This software allows you to check the operation of the Wiimote and makes it easy and fast to find defective one.
Also supports Motion Plus, Nunchuk, and Classic Controller.
The tool we use to inspect the Wiimote has been brushed up and is now available to the public.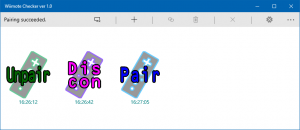 What's for ?
As a tool for detecting defective products at work, it can quickly process a large number of Wiimotes.
What features ?
Pairing, inspecting and unpairing the Wiimote, the process is consistent and smooth.
Available with a standard Bluetooth adapter and standard drivers.
Easy-to-operate UI that considers smooth work flow and visibility for defect detection.
Button and plug chatter detection.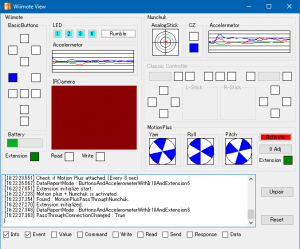 What can not ?
There are some Wiimote control functions that are not yet supported, such as the speaker function and Mii transfer function (to be supported).
There are some extension controllers that are not yet supported, such as the Balance Wii Board and TaTaCon (to be supported).
This software is a tool to detect some of the malfunctions and does NOT guarantee that the Wiimote will work properly.
Free Trial
Operation verification models
Windows10 Pro 1903-
iBUFFALO Bluetooth USB adapter 3.0 BSHSBD04BK
Zexmte Bluetooth 4.0 USB adapter
Others
Wii Remote(R), Wii Remote Plus(R), Nunchuck(R), Classic Controller(R) and Balance Wii Board(R) are registered trademarks of Nintendo Corporation. TATACON(R) is a registered trademark of BANDAI NAMCO Entertainment Inc.